Tombow Airpress Black Ballpoint Pen + EXTRA REFILL 696574882694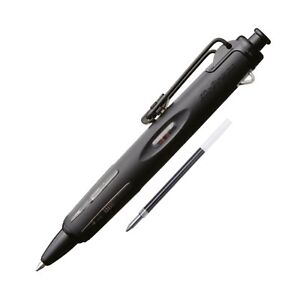 ---
Tombow Airpress Black Ballpoint Pen + EXTRA REFILLAlways ready to use - to write overhead, in dusty surroundings or on wet paper is no problem for the AirPress Pen. It is the perfect companion for outdoor sports, travel, craft etc. Due to its rubberised grip area the pen offers a secure grip even in rain, with damp fingers or when using gloves.Product Features:Pen Mode: BallpointLength: 13 cm (Approx)Type of Ink: Oil-basedCompatible refills (can be purchased separately):Tombow Airpress Ballpoint refills Please note that we are unable to exchange the ink / refill colour that is supplied with the pen. UK SHIPPING INFORMATION:Most orders received before 3.00pm Mon-Fri will be shipped the same day and are sent by Royal Mail Second Class Standard Delivery, which will generally arrive within three-five working days after posting. Please note this is based on stock availability and cleared payment. First Class and UK Express Next Day delivery is available on most items, however, are subject to additional postage costs and stock availability. Please see listing for further details on available alternative delivery options. Orders placed after 3.00pm on Friday will be shipped the following working day. Please note that we do not ship orders on weekends or Bank holidays.INTERNATIONAL SHIPPING INFORMATION:We provide three International shipping options; Royal Mail Standard (Not Tracked), Royal Mail Tracked / Signed For, and DHL Express. Delivery times vary. Any orders over the total order value of £30.00, may not be eligible for International Standard delivery rates, and we may only offer the International Tracked/Signed For shipping service or DHL Express. This is is to ensure that your order arrives safely.We offer combined postage on International orders but may be subject to additional postage costs depending on the total value of the order. To receive discounted combined* shipping rates, please purchase your items on the .co.uk site. Simply add your items to your basket, the total should adjust accordingly when you proceed to checkout. *Discounted shipping rates are not guaranteed as orders are subject to our shipping terms as outlined above. NOT RECEIVED YOUR ORDER?Please contact us should you not receive your order(s) by the expected delivery date (as shown at the time you placed your order). It is likely that there is a small delay in transit, however, if you can confirm that the delivery address you have supplied is 100% correct we can rule out any problems. We would also ask that should this be a business address that you please check that your mailroom staff/colleagues are not holding this order for you. ABOUT EUROPENS:

Europens was launched in the summer of 2010 and our aim is to offer all the everyday pens and premium brands you might want or need, all under one roof. Our aim is not to be the biggest but to offer a specialist, wide range of pens and contemporary gifts giving a customer experience that is faultless. With the Europens team constantly growing, we now have over thirty years experience in the pen industry. Test us!!! 

A warm welcome to all new customers and thank you to those who continue to buy from us, we know there are plenty of choices in today's online environment.